Army Rajputana Rifles Regimental Centre Recruitment 2023 Apply for Group C Vacancies
Rajputana Rifles Regimental Centre, Delhi Cantt invites applications to fill vacancies of Tailor, Barber and Boot Maker through Rajputana Rifles Regimental Centre Recruitment 2023 Notification from 27 May 2023 to 30 June 2023. The candidates who want to get this opportunity can apply through offline mode.
Before applying, the candidate should read the information given here and the Rajputana Rifles Regimental Centre Recruitment 2023 official notification issued by the Rajputana Rifles Regimental Centre, Delhi Cantt. All important links are provided at the end of this article.
Rajputana Rifles Vacancy 2023 Notification
Rajputana Rifles Regimental Centre Recruitment 2023 :- Rajputana Rifles Regimental Centre, Delhi Cantt has recently released the notification for the Tailor, Barber and Boot Maker . Its official notice has been issued in May 2023 and information about the posts has been given in it.
Interested and eligible candidates can apply for Tailor, Barber and Boot Maker. Candidates can apply from the official website of Rajputana Rifles Regimental Centre, Delhi Cantt. All the information related to the Rajputana Rifles Job Notification 2023 is given on this page. For more details read official notification or visit official website.
Onlineforms.in wish you a bright future.
---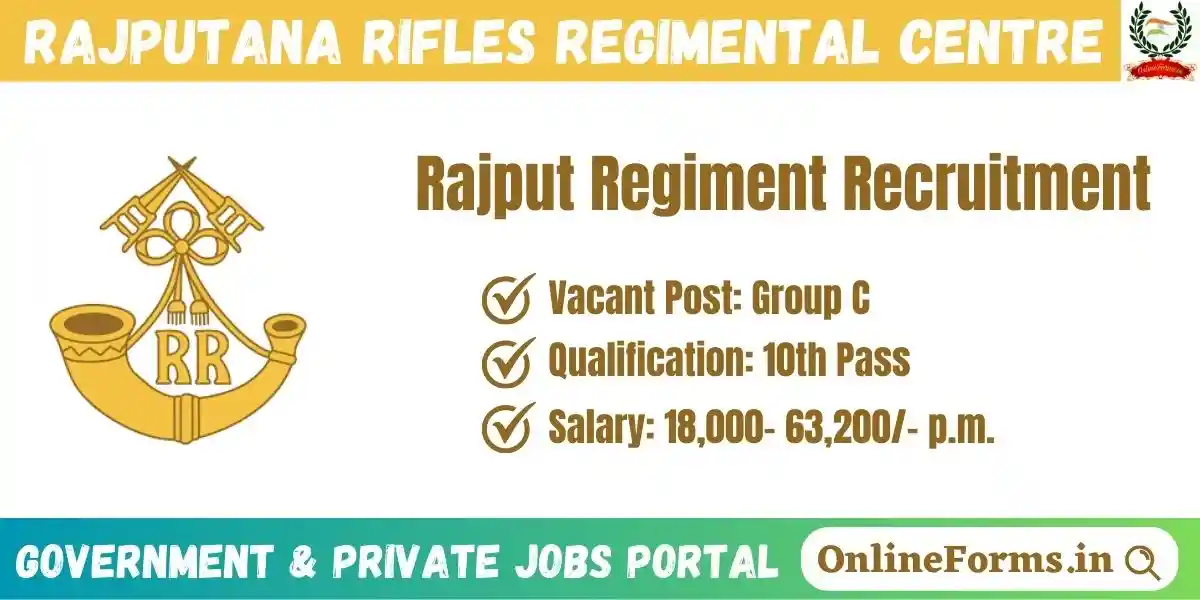 Rajputana Rifles Regimental Centre, Delhi Cantt
Rajputana Rifles Regimental Centre Recruitment 2023 Offline Form
WWW.ONLINEFORMS.IN
Rajputana Rifles Recruitment Important Date
The important dates related to Rajputana Rifles Recruitment have been provided in the table below.
| | |
| --- | --- |
| Recruitment Process | Schedule |
| Application Form Begin | 27 May 2023 |
| Application Form Submission Last Date | 30 June 2023 |
| Exam Date | As per Schedule |
| Download Admit Card | Before Exam |
| For Upcoming Updates | Join Telegram Channel |
Rajputana Rifles Recruitment Application Fees

Categories
Application Fees
General, OBC, EWS
0/-
SC, ST, Women
0/-
Rajputana Rifles Recruitment Age Limit
Date of Birth filled by the candidate in the Rajputana Rifles online application form and the same recorded in the Matriculation/ Higher Examination Certificate will be accepted by the Rajputana Rifles Regimental Centre, Delhi Cantt for determining the age and no subsequent request for change will be considered or granted. The age limit for Rajputana Rifles is;
Minimum Age Required :- 18 Years
Maximum Age Limit :- 25 Years
Age Limit as on :- 30 June 2023
Calculate Your Age- Use Age Calculator
Additional Age Relaxation as per Government Rules.
#Government Jobs for You
Rajputana Rifles Vacancy 2023

Posts Name
Vacancy
Salary
Tailor
01 (UR)
Rs 18000-56900/-
Barber
01 (PwBD-B)
Rs 18000-56900/-
Boot Maker
01 (ESM)
Rs 19900-63200/-
Rajputana Rifles Recruitment Eligibility Criteria
Boot Maker
Candidates should have 10th pass or equivalent from any recognized Board.
Should be able to carry out following repair works:- Tarpaulin/canopy vehicle, Equipment ICK, Boot repairs, Repair of sheet of vehicles, Any other leather work.
Tailor
Matriculation or equivalent

from a recognized board.

Must know stitching and cutting of uniforms.
Barber
Matriculation or equivalent

from a recognized board.

Proficiency in Barbers trade.
Read the Official Notification for More Details.
Rajputana Rifles Recruitment Selection Process
The Rajputana Rifles, renowned for its rich legacy and valiant history, is a prestigious regiment of the Indian Army. With a strong commitment to safeguarding the nation's integrity, the Rajputana Rifles invites aspiring candidates to join its ranks through the Recruitment Selection Process 2023.
This comprehensive process ensures that only the most deserving individuals are chosen to serve their country. Let us delve into the various stages of this selection process and understand what it takes to become a part of this esteemed regiment.
Written Exam: The first stage of the Rajputana Rifles Recruitment Selection Process is the written examination. Candidates are tested on their knowledge and aptitude in subjects such as General Awareness, Mathematics, English and General Science. The exam is designed to assess the candidate's intellectual abilities and their grasp of basic concepts. A strong foundation in these subjects, coupled with effective time management and problem-solving skills, is crucial for success in this stage.
Written examination will be objective type for 150 marks and the syllabus will be of minimum qualification prescribed for each post. Candidates will also be tested for skill test and it will be mandatory to pass the skill test in the category he/she is applying. Candidates for practical will be 10 times the number of vacancies in each category based on written examination
Original and photocopy of the following Documents/Certificates duly attested by a Gazetted Officer to be produced at the time of written test:-
Matriculation Certificate/Municipality Birth Certificate in support for date of birth.
Mark sheet of the educational qualification mentioned against the post applied for.
 ST/SC/OBC (Non creamy layer for OBC)/ EWS (EWS Status certificate from an officer not below the rank of Tehsildar).
Physically handicapped certificate showing 40% and above disability issued by competent authority is applicable.
Discharge certificate in case of ex-serviceman.
NOC in original from their present employer/competent authority in case of Government servant including serving Armed Forces Personnel if applicable.
Skill/Trade Test: Once the candidates clear the written exam, they proceed to the skill/trade test. This stage evaluates the practical skills and technical knowledge of the candidates in their respective trades. Depending on the specialization applied for, candidates may undergo tests related to weapon handling, communication equipment operation, medical aid or other trade-specific tasks. The skill/trade test aims to identify individuals who possess the necessary expertise and proficiency required for effective service in the Rajputana Rifles.
Document Verification: After clearing the skill/trade test, candidates move on to the document verification stage. In this stage, the authenticity and correctness of the candidate's documents, certificates, and testimonials are thoroughly examined. Candidates must provide original copies of their educational certificates, proof of age, caste certificate (if applicable), domicile certificate and other required documents. It is essential to ensure that all the necessary documents are complete and in order to proceed further in the selection process.
Medical Examination: The medical examination is a crucial step in determining the physical fitness and overall health of the candidates. It includes a thorough medical check-up, including measurements of height, weight, eyesight, hearing ability, and overall physical fitness. The medical examination ensures that only medically fit individuals, capable of enduring the demands of military service, are selected.
Final Merit List: Upon successfully completing all the preceding stages, candidates are placed on the final merit list. The merit list is prepared based on the candidate's performance in the written exam, skill/trade test, and medical examination. The final merit list serves as the ultimate determinant of the candidates who are deemed suitable to join the Rajputana Rifles. It is a testament to their abilities, dedication and potential to contribute effectively to the regiment and the nation.
Rajputana Rifles Regimental Centre, Delhi Cantt Postal Address
POSTAL ADDRESS: "The Rajputana Rifles Regimental Centre, Delhi Cantt-110010"
Candidates should submit their application form along with self-attested copies of necessary documents at the following address before or on the last date of application through offline mode only (Ordinary Post only). Application received after the last date (30 June 2023) or applications incomplete in any respect will not be considered.
Required Documents to be Attached with the Application Form
Copies of the following certificates should be sent along with the application. Original certificates should not be sent with the application.
Educational and Professional qualification certificates.
Caste Certificate, if candidate belong to reserved category.
Domicile Certificate & Residential Certificate.
Copy of Birth Certificate/ Age Proof.
Self-attested photocopy of Aadhar Card.
Experience Certificate. if any
A self-addressed envelope bearing a postage stamp of Rs.5.
Attach other necessary documents with the application form.
General Conditions & Instructions
Interested candidates should send their applications as per format attached and properly sealed in an envelope to subscribe the words "APPLICATION FOR THE POST OF ________CATEGORY_____" on the top of envelope.
Fill all the columns of the application yourself, In plain and Capital letters.
The application can be filled by the candidates either in English or Hindi.
Separate application for each post should be applied. One candidate shall apply only one application.
The date of written test / skill or trade test/ Interview (as applicable) will be intimated to eligible candidates separately.
No cutting or over harvesting in the Rajputana Rifles application form.
Incomplete, incorrect, wrongly filled, over writing, without signature, without photograph Rajputana Rifles application will be rejected.
This Rajputana Rifles Regimental Centre, Delhi Cantt office shall not be responsible for any kind of postal delay.
The candidates must write their name, date of birth, father's name and mother's name strictly as given in the matriculation certificate otherwise their candidature be cancelled as and when it comes into the notice of the Rajputana Rifles Regimental Centre, Delhi Cantt.
The details of eligibility, qualifications, terms and conditions, necessary documents. application format, syllabus etc. are available in the Rajputana Rifles Regimental Centre, Delhi Cantt Official website.
For any Clarification / Assistance, Candidates may Contact:-
Helpline No: —-
Telegram Channel: Join Now
Note: Misbehaviour in call or email can lead to legal action against you.
Rajputana Rifles Notice & Link

Application Form

Official Notification

Join Telegram for Govt Jobs

Official Website