How to Check Haryana Ration Card List 2023
Haryana Ration Card List : Facility to check PDS Haryana ration card list online is available. Food department has provided Haryana food portal where one can get complete details of APL, AAY, OPH, CBPL & SBPL ration card. Many people submit applications to get a new ration card. After this, let's wait for his name to appear in the list. For this, they also go to the government office and find out. But now you don't need to go anywhere.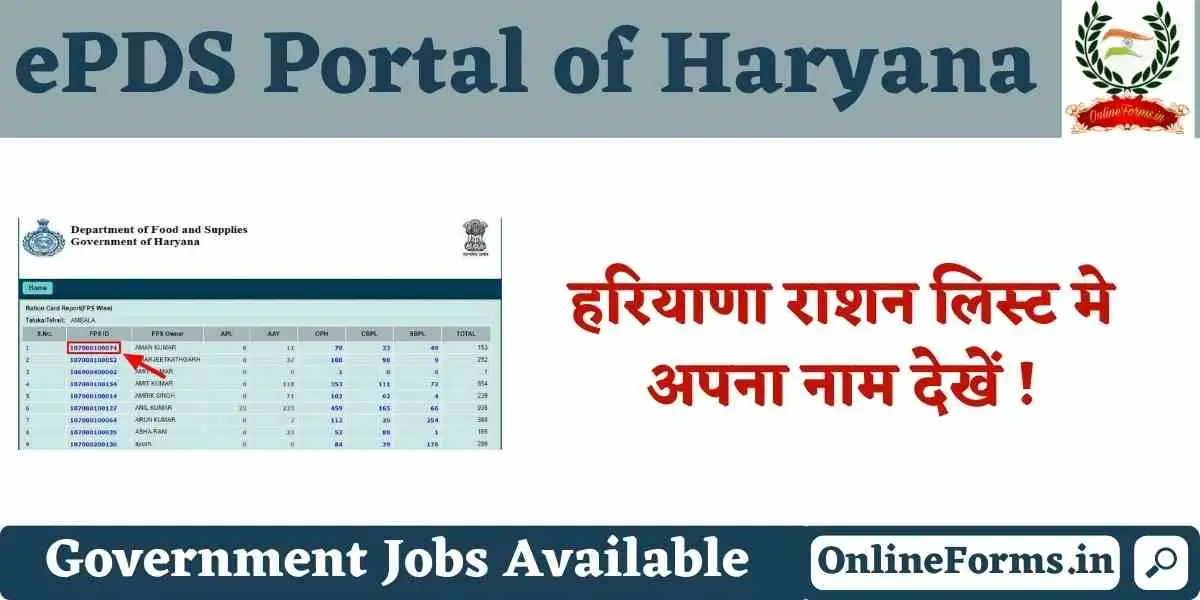 Check Haryana Ration Card List 2023
If you want to check name in Haryana Ration Card List, then you should read this article completely. Because here you will get complete step by step information. You will be able to check your name in the list very easily. So let's start.
Step-1) To check the ration card list Haryana, first of all open the website of Food Department hr.epds.nic.in.
To check Haryana Ration Card list, epds portal of Haryana has to be opened. For this, search by typing hr.epds.nic.in in the Google search box or we have given its direct link here. With which you will be able to open the web portal without any hassle – hr.epds.nic.in
Step-2) After this select the ration card in the menu.
Now again on the left side you will see different options to check the ration card report. In this, the Ration Card option has to be selected.
Step-3) Now select your DFSO name and AFSO name.
After this the complete list of DFSO will appear on the screen. Here you have to select whichever DFSO you are from. As I am from DFSC AMBALA then selected it. AFSO has to be selected in the same way as you have selected DFSO. As I am from AFSO AMBALA CANTT then selected it. You also select your AFSO.
Step-4) Then choose the name of your ration shop.
After selecting AFSO, the complete list of FPS coming under it will appear. That is, the list of the ration shop from which you get ration will be visible. Select your FPS ID here.
Now the Haryana Ration Card List will open on the screen. In this list you can check your name. As soon as you select the FPS ID, the complete list of all the ration cards made under it will open. Here ration card number, name, father/husband's name and other details will be given. In this you can search your name.
In this way, you can easily check your name in the Haryana Ration Card List. And you can find out whether your name is in the ration card list or not. If you face any problem in this, then you can ask in the comment box below.
Get More Updates- Visit Homepage