WBBSE Madhyamik Result 2023 Declared: Check Your Score
The much-awaited WBBSE Madhyamik Result 2023 was officially declared today at 12 pm, bringing immense joy and excitement to thousands of students across West Bengal. The West Bengal Board of Secondary Education (WBBSE) successfully released the results on its official website, wbresults.nic.in, making it easily accessible to students, parents and educators.
After months of hard work, dedication, and anticipation, students finally got to see the achievement of their labor. The Madhyamik examination, considered a crucial milestone for students, tests their knowledge and understanding of various subjects, setting the stage for their future academic endeavours.
WBBSE 10th Result 2023 Out
The West Bengal Board of Secondary Education (WBBSE) recently concluded the Madhyamik exams for the academic year 2023. The examinations were held from 23rd February 2023 to 4th March 2023, providing students an opportunity to showcase their knowledge and skills.
Out of the total 6,98,627 students who appeared for the Madhyamik exams this year, an impressive 5,65,428 students have successfully cleared the exams, paving their way towards further academic pursuits. The WBBSE Madhyamik 10th Result 2023 has brought joy and a sense of accomplishment to these successful candidates.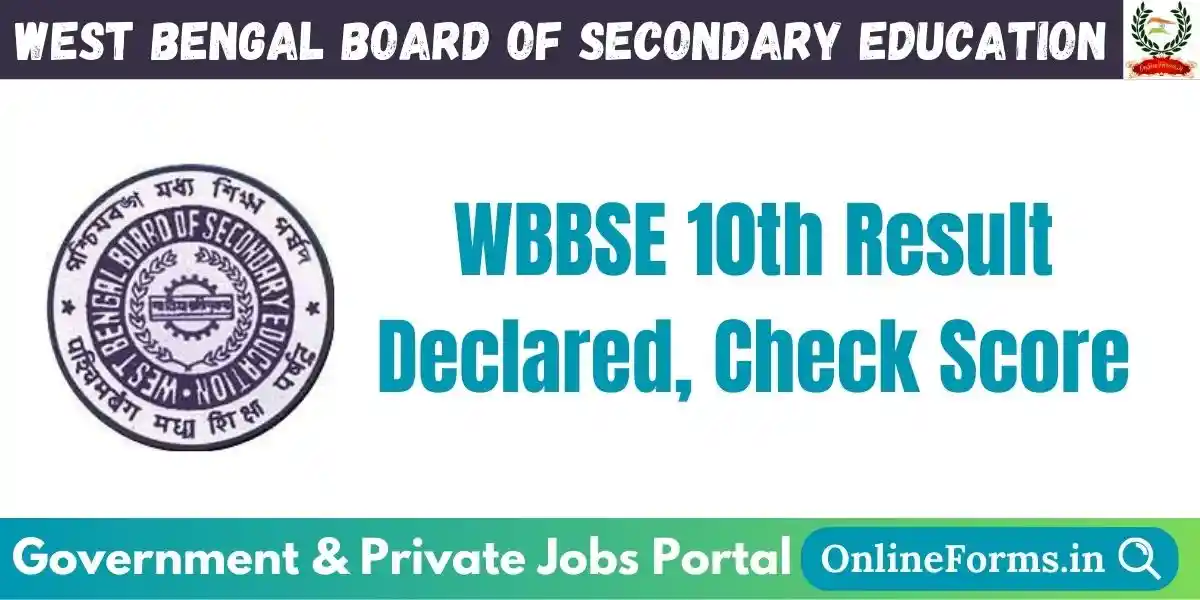 Analyzing the performance across different districts, East Midnapore has emerged as the top-performing district with an outstanding pass percentage of 96.81%. Following closely behind, Kalimpong secured the second position with a pass percentage of 94.13%. Kolkata, the capital city of West Bengal, has secured the third spot with an impressive overall pass percentage of 93.75%.
WBBSE Madhyamik Result 2023
Several students have achieved remarkable scores, earning accolades for their exceptional performances. Their hard work, perseverance, and the support received from their families, teachers, and schools have contributed to their success. These students serve as an inspiration to others, highlighting the significance of consistent effort and dedication.
The overall pass percentage for the WBBSE Madhyamik Result 2023 stands at an impressive 86.15%, reflecting the exceptional efforts of the students. The result showcases their determination to excel academically, despite the disruptions caused by the pandemic.
| | |
| --- | --- |
| Exam Conducting Body | West Bengal Board of Secondary Education (WBBSE) |
| Examination | WBBSE Madhyamik Exam |
| Exam Conducted | 23rd February to 04th March 2023 |
| Number of Students | 6,98,627 |
| WBBSE 10th Result Date | 19 May 2023 at 12 pm |
| Pass Percentage | 86.15% |
| WBBSE Madhyamik Topper | Devadutta Majhi (697 Marks- 99.57%) |
| Result Declaration Mode | Online |
| Official Website | wbresults.nic.in, wbbse.org, wbbse.wb.gov.in. |
While the pandemic posed unprecedented challenges to the education system, the WBBSE and educational institutions took proactive measures to ensure a fair evaluation process for the students. They implemented a rigorous assessment mechanism that considered various factors, including internal assessments, practical examinations, and previous academic records.
The individual achievements, schools across the state are also celebrating their overall performance. Several institutions have witnessed outstanding results, reflecting their commitment to providing quality education and support to their students.
As the results are now out, students and their families are elated and relieved. They can now make informed decisions about their academic paths, considering various options available to them.
WB Madhyamik Result 2023 link
The West Bengal 10th Result 2023 was officially announced today, May 19, 2023, at 10 am. However, the links to check the WB Madhyamik Result 2023 will be activated by 12 pm on official websites such as www.wbresults.nic.in, www.wbbse.org, and www.wbbse.wb.gov.in. Once activated, you can use the provided direct link to access the WBBSE Madhyamik Result 2023. Please remember that the online mark sheet is provisional, and students should visit their respective schools later to collect the original mark sheets.
How to Check WBBSE Madhyamik Result 2023: A Step-by-Step Guide
The West Bengal Board of Secondary Education (WBBSE) has declared the much-awaited WBBSE Madhyamik Result 2023, bringing a wave of excitement and anticipation among students. If you are one of the students who appeared for the Madhyamik examination this year, here is a step-by-step guide on how to check your result online.
Step 1: Find a Reliable Internet Connection
To begin, ensure that you have a stable and reliable internet connection. You can use a Wi-Fi network or mobile data to access the WBBSE result website.
Step 2: Visit the Official WBBSE Website
Open your preferred web browser and visit the official website of the West Bengal Board of Secondary Education (WBBSE). The official website is www.wbbse.org.
Step 3: Look for the WB Madhyamik Result Link
Once you have accessed the WBBSE website, navigate to the homepage and look for the "Madhyamik Result 2023" link. This link is usually prominently displayed on the website, making it easily accessible.
Step 4: Click on the WBBSE Madhyamik Result Link
Click on the "Madhyamik Result 2023" link to proceed to the result checking page. This link will redirect you to the page where you can enter your details and access your result.
Step 5: Enter Your Roll Number and Other Required Information
On the result checking page, you will be prompted to enter your roll number and other necessary details. Carefully type in your roll number as provided on your admit card or hall ticket. Double-check the accuracy of the information to avoid any errors.
Step 6: Submit Your Information
After entering your roll number and verifying its accuracy, click on the "Submit" button or a similar option available on the page. This will initiate the process of retrieving your result from the database.
Step 7: View and Download Your WBBSE Madhyamik Result
Once your result is retrieved, it will be displayed on the screen. You can now view your WBBSE Madhyamik Result 2023, which will include subject-wise grades or marks obtained. Take a moment to review your result and ensure its accuracy.
To retain a copy of your result for future reference, you can choose to download or take a screenshot of the result page. It is always a good practice to keep a digital and printed copy of your result for documentation purposes.
Check for Additional Information
Along with your result, the WBBSE website may provide additional information, such as grade distribution, overall statistics, and important notifications. Take a moment to go through this information as it can be beneficial for your future academic plans.
Remember, in case of any discrepancies or concerns regarding your result, it is advisable to reach out to your school or the West Bengal Board of Secondary Education for clarification and guidance.