Territorial Army Officer Recruitment 2023 Apply for 19 Vacancies
Join Territorial Army invites applications to fill 19 vacancies of Officers through Territorial Army Officer Recruitment 2023 Notification from 23 October 2023 to 21 November 2023. The candidates who want to get this opportunity can apply through online mode.
Before applying, the candidate should read the information given here and the Territorial Army Officer Recruitment 2023 official notification issued by the Join Territorial Army.
Territorial Army Officer Notification 2023
Territorial Army Officer Recruitment 2023: – Join Territorial Army has recently released the notification for the Officers. Its official notice has been issued in October 2023 and information about the posts has been given in it.
Interested and eligible candidates can apply online for Territorial Army Officer Vacancy 2023. Candidates can apply from the official website of Join Territorial Army. All the information related to the Territorial Army Officer Job Notification 2023 is given on this page. For more details read official notification or visit official website.
Onlineforms.in wish you a bright future.
---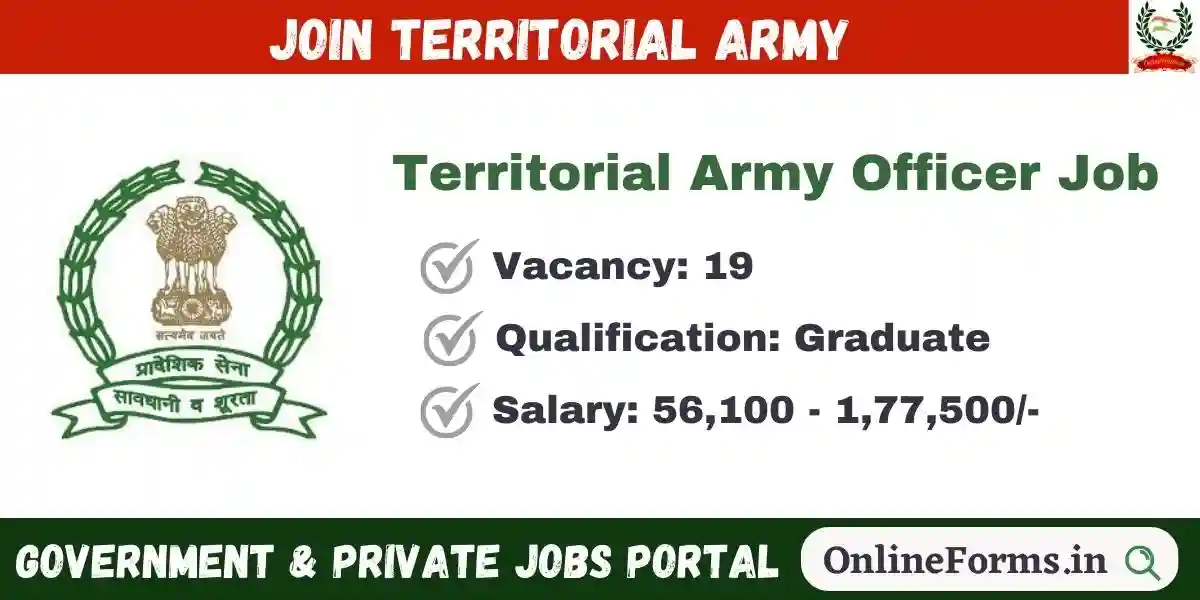 Join Territorial Army
Territorial Army Officer Recruitment 2023 Online Form
 WWW.ONLINEFORMS.IN
Territorial Army Officer Recruitment 2023 Overview
| | |
| --- | --- |
| Department/ Organization | Join Territorial Army |
| Notification No. | — |
| Post Name | Officers |
| Vacancy | 19 |
| Salary/ Pay Level | Given Below |
| Application Mode | Online Form |
| Official Website | jointerritorialarmy.gov.in. |
Territorial Army Officer Recruitment Important Date
The important dates related to Territorial Army Officer recruitment have been provided in the table below.
| | |
| --- | --- |
| Recruitment Process | Schedule |
| Application Form Start | 23 October 2023 |
| Online Registration Last Date | 21 November |
| Exam Date | 3rd/ 4th Week of December 2023 |
| Download Admit Card | Before Exam |
| For Upcoming Updates | Join Telegram Channel |
After ensuring the correctness of the details in the Territorial Army Officer Recruitment 2023 application form, candidates are required to pay the Territorial Army Officer application fee through the payment gateway on the Join Territorial Army website integrated with the online application. Online fee payment through Net Banking or debit / credit card will be available up to 21 November at 23.55 hrs.
| | |
| --- | --- |
| Category Name | Fees |
| Unreserved, OBC, EWS | 500/- |
| SC, ST | 500/- |
The Territorial Army Officer Recruitment 2023 fee payment can be made by using Debit card, Credit card and Net Banking etc. by providing information as per the instructions on your computer screen.
Territorial Army Officer Age Limit 2023
Date of Birth filled by the candidate in the Territorial Army Officer online application form and the same recorded in the Matriculation or equivalent/ Birth certificate will be accepted by the Join Territorial Army for determining the age and no subsequent request for change will be considered or granted. The age limit for Territorial Army Officer is.
Minimum Age Required: 18 Years

Maximum Age Limit:

42 Years
Age Limit as on: 21 November 2023
Calculate Your Age: Use Age Calculator
Additional Age Relaxation as per Rules.
#Government Jobs for You
Territorial Army Officer Vacancy 2023

Post Name
Vacancy
Salary
Officers
19 (Male-18, Female-01)
Rs. 56,100 – 1,77,500/-
Territorial Army Officer Eligibility Criteria
Candidates must have Graduate from any recognized university.
Read the official notification for eligibility details.
Territorial Army Officer Selection Process 2023
Written Exam
Interview
Service Selection Board (SSB)
Document Verification
Medical Fitness Test
Selection
Territorial Army Officer Exam Pattern 2023
Number of Questions: 200 Questions
Maximum Marks: 200 Marks
Negative Marking: 0.33
Type of Exam: Objective (OMR)
Qualifying Marks: Minimum 40% Marks in Each Part of the Paper Separately and Overall Average of 50%.
Subjects
Question/ Marks
Time Allotted
Part – 1 Reasoning
50/50
Paper I: 02 Hours
Part – 2 Elementary Mathematics
50/50
Part – 1 General Knowledge
50/50
Paper II: 02 Hours
Part – 2 English
50/50
Territorial Army Officer Paper I Syllabus 2023
Part 1: Reasoning
In this section, the exam aims to evaluate the candidate's capacity to identify logical patterns in sequences, numbers, statements, figures, letters, and more. The questions in this part test the ability to draw rational conclusions without requiring any specific prior knowledge of the subject matter.
Part 2: Elementary Mathematics
(i) Arithmetic:
Number System: This covers natural numbers, integers, rational numbers, and real numbers.
Fundamental Operations: Addition, subtraction, multiplication, division, square roots, and decimal fractions.
(ii) Unitary Method:
Concepts like time and distance, time and work, percentages, and their applications to simple and compound interest, profit and loss, as well as ratio and proportion.
(iii) Elementary Number Theory:
Topics include the division algorithm, prime and composite numbers, tests for divisibility by numbers like 2, 3, 4, 5, 9, and 11.
Multiples and factors, factorization theorem, HCF (Highest Common Factor), LCM (Lowest Common Multiple), Euclidean algorithm, logarithms, and laws of logarithms.
(iv) Algebra:
Covering basic operations, simple factors, remainder theorem, HCF, LCM, theory of polynomials, quadratic equations and their solutions, as well as simultaneous linear equations in two unknowns, both analytically and graphically.
The syllabus includes practical problems involving simultaneous linear equations, equations in two variables, and quadratic equations, along with set language and notation, rational expressions, conditional identities, and laws of indices.
(v) Trigonometry:
Focusing on sine, cosine, and tangent functions for angles between 0° and 90°, and their values at specific angles like 0°, 30°, 45°, 60°, and 90°.
The section also covers simple trigonometric identities, the use of trigonometric tables, and basic problems related to heights and distances.
(vi) Geometry:
Topics include lines and angles, plane and plane figures, theorems concerning properties of angles at a point, parallel lines, triangles, and other polygons.
It covers congruency of triangles, similarity of triangles, and properties of various quadrilaterals and circles, including tangents and normal lines.
(vii) Mensuration:
This involves the calculation of areas of squares, rectangles, parallelograms, triangles, circles, and composite figures.
It also covers the surface area and volume of cuboids, right circular cylinders, and spheres.
(viii) Statistics:
Includes data collection and tabulation, graphical representation using frequency polygons, bar charts, pie charts, and more.
It also encompasses measures of central tendency.
Territorial Army Officer Paper II Syllabus 2023
Part 1: General Knowledge
This section evaluates the candidate's general knowledge, including current events and matters of everyday observation. It also assesses scientific knowledge expected from an educated individual without specialized study. Questions related to the history of India and natural geography are included.
Part 2: English
The English section tests the candidate's understanding of the language and their ability to use words effectively. It includes questions on synonyms, antonyms, reading comprehension, arranging sentences, spotting errors, correcting sentences, and filling in the blanks.
How to Apply for Territorial Army Officer Recruitment 2023
Territorial Army Officer Recruitment 2023 On-line Registration and Submission process will be terminated by 12 November 2023 at 23.55 hrs. Candidature of such applicants who fail to complete online submission of Territorial Army Officer application form by stipulated date and time will not be considered and no correspondence in this regard will be entertained.
Applicants must fulfil all essential eligibility criteria (educational qualification, age limit, etc.) by last date of submission of Territorial Army Officer application form in respect to that post for which they are applying.
Candidate Read the Notification Before Apply the Application Form in Territorial Army Officer Online Form 2023.
Check all Required Documents for Territorial Army Officer Recruitment – Eligibility, ID Proof, Address Details, Basic Details.
Ready Scan Document Related to Territorial Army Officer Recruitment- Photo, Sign, ID Proof, Etc.
Before Submit the Online Application, Must Check and Preview all Columns Carefully.
If Candidate Required to Paying the Registration Fee Must Submit. If You have Not the Required Application Fees Your Form is Not Completed.
Take A Printout of Final Submitted Form.
Required Documents
Photograph, not more than 3 months old. (white background)
Signature (white paper with Black Ink pen)
Phone Number
E-Mail Address
Upload Certificates (True Colour)
Educational Certificates.
Age Proof (10th/ 12th Marks sheet/ School Leaving Certificate/ Birth Certificate).
Caste / Tribe / Class Certificate for SC, ST, OBC (NCL) and EWS.
Copy of Aadhar Card/ Other ID Proof.
Scanned self-attested copy of NOC from employer (If applicable).
---
For any Clarification / Assistance, Candidates may Contact: –
Note: Misbehavior in call or email can lead to legal action against you.
Territorial Army Officer Official Notice & Link

Can we apply for you? (हमसे फॉर्म भरवाएं )

Registration | Login

Best Books for Preparation

Official Notification

Govt Jobs Available